Want to become a member in NSDTC?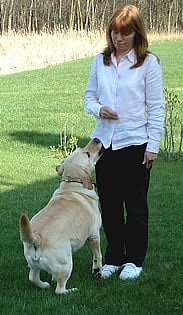 After attending classes of the NSDTC for six months a trainee may apply for membership in the club. However, experienced, well-qualified persons may apply after training for a minimum of three months with the NSDTC.
Benefits of membership include lower training fees and enjoying the camaraderie of other people with similar interests; not to mention the joy of having lovable companions.
Note to members: remember to e-mail or snail-mail us (c/o Hope Saidel, 5016 Greenleaf St, Skokie, IL 60077) photographs of you and your dogs having a great time, like Ruth Ann Grant and Potomac, or Hannah and Mary Anne (Hannah's checking out the picnic offerings)!