Training Classes
IMPORTANT ANNOUNCEMENT: 4/24/17 Training is on hiatus ... The Barking Lot in Deerfield (where we train) suffered a major water main break, causing significant damage to the building. Fortunately the staff was able to get all the boarding and day care dogs out of the building safely. Repair time is estimated to be about a month.
Watch this page for an announcement telling you when we're starting classes again!
---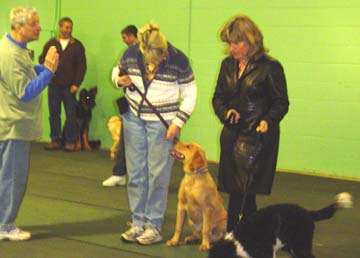 Watch this space for the date of our next training session at The Barking Lot, 495 Lake Cook Road, Deerfield, IL 60015. $120 per 9-week session for non-members; $50 per session or $10 per night for members. Half-price for a second dog (same family) or a second class (same dog). Week 9 of every session will be Graduation and other fun programs! Call Hope or Fran 847-677-0680 days or 847-674-8613 evenings for more information or to reserve a space.
Everyone must complete a new Training Waiver the first week of class for the year. Print out and complete the Training Waiver. Bring it to class the first night and give it to the Registrar. You'll need Acrobat Reader (a free, downloaded program) to open the file: training_waiver.pdf.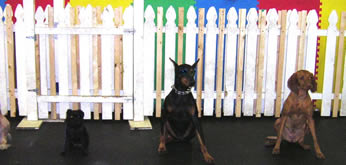 Classes will be 45 minutes each, according to the following schedule:
7:00 - 7:45 pm

7:50 - 8:35 pm

Puppy / Beginner Class

Advanced Class
(Open / Utility)

Rally Class

Novice Class
The Barking Lot is a beautiful doggy day care, boarding facility and store. We are very fortunate to have found such a beautiful new home and encourage everyone to Get Training!
Call 847-677-0680 for more information.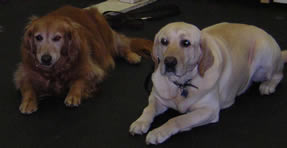 Rally Class is a stepping stone to the path of competition. Rally offers dog and handler fun and excitement, moving along a preset course of designated stations. Each station provides instructions for the skill to be performed. Our volunteer instructors are experienced competitors in the Rally ring.



Novice Class is the first step on the road to competitive obedience. Our volunteer instructors are well-versed in the AKC competition rules and make sure our dog/handler teams are well-prepared the first time they step in the ring at an Obedience Trial. They can't help with the butterflies, but they'll make sure you face no surprises in the ring.
Advanced Class is for dogs that have substantially completed their Novice (CD) title, and focuses on the exercises needed to reach the CDX (Companion Dog Excellent) title and beyond.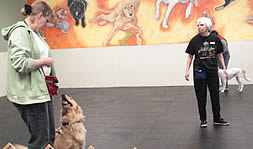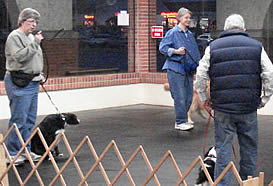 more pictures at The Barking Lot...

©2017 North Shore Dog Training Club. All Rights Reserved.